<!krater>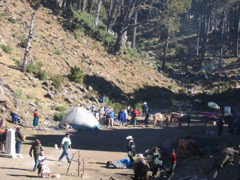 We ended up celebrating New Years Eve of 2005 not on top of the volcano Tacaná, as planned, but in a hut on the way there. We were late due to a snow storm in Boston. Still, when we arrived to the crater on the following day, we could see what it would have been like. At 4000 meters, the crater was full of revelers and people selling refreshments and fire crackers. Most of them had come from Guatemala, from where the approach was easier, passable for mules. <!viragosneni>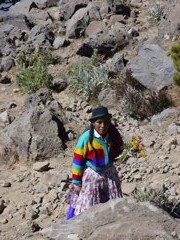 It appears to be a local custom to climb the volcano Tacaná at New Years and pick from the rare flowers growing there. We encountered several people with colorful bouquets. They plucked some for the cross on top of the mountain, some to take home. <!fahordo>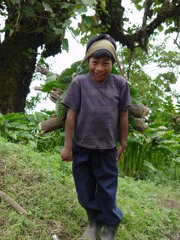 The local people we encountered carried wood in addition to the flowers and they were exceedingly friendly, insisting on shaking our hands and seeming pleased that we had come all the way from Boston. They don't see many "gringos" around here.
It took us two days to climb the volcano. We started in Union Juarez, a village at 1300 meters, well liked for its cool mountain air by people living in the hot cities below, priding itself on a pleasant hotel with a view and much couleur locale. <!kave>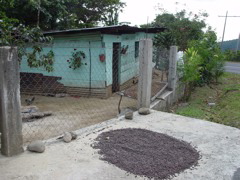 The main crop around Union Juarez is coffee. We were surprised to find out that coffee in its natural state is a bright red "cherry". The plants like shade and the presence of tall trees that are there to provide it gives the plantations a pleasant air. One of the first steps in making coffee is drying it, and we saw coffee drying on several porches around the village.
The original plan was to hire a guide here to show us the way to the volcano. Because we arrived 2 days later than planned, Alejandro (recommended to us by a friend) had already departed. From what the hotel people told us, it didn't seem that it would be hard to find the way on our own, and in the end we were happy we went alone. Trying to find your way is part of the fun. <!út ch-be>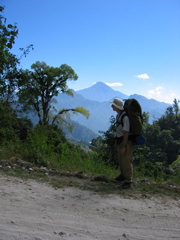 Union Juarez is not the last outpost. A dirt track leads to the next tiny village, Chiquihuite. We could have hitched a hike for these 10 or so km but no car showed up. Since we left some bulk behind, it was not too hard trekking the distance, even with backpacks. The stunning views made this leg of the trip seem short.
<!csibe>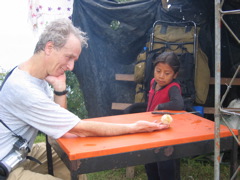 Chiquihuite may be tiny but its inhabitants are ready for visitors. Every house had a fire going and wanted to feed us. We stopped for our tortillas at the very first house where a little girl (Joanna) with her pet chicken kept us company while the mother prepared the food.
<!Linda Vista>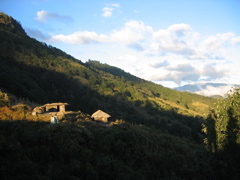 After Chiquihuite, the path became quite steep and narrow, but it was worn enough so there was no danger of losing it. The flowers, circled by colibri, were lovely and so were the views. Our destination was rancho Linda Vista. We had read about a basic tourist hut there where we could spend the night. There was a hut indeed and for sure it was basic: it had nothing but a few planks on a concrete floor. This albergo was right next to (just a few feet away - everything being vertical, there is not much room on the mountain side) the hut of the Velasques de Leon family. This is an extended family of grandparents, several young couples and a dozen young children who all live in one smoky hut. They grow corn and tend to a few animals. There was enough water coming from the mountain, and the people seemed healthy, but had to do with very very little. As usual, the children kept us company and the oldest, 10 year old Giovannni, even showed us his copy book and read us a patriotic poem from it. They go to school to Chiquihuite, the village from where we had just arrived after 3 hours of climbing! <!indián család>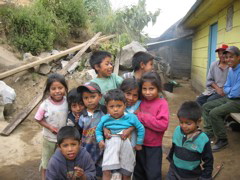 We were served a dinner of omelet, beans and tortillas in the family's hut, where there may have been a cot for every third person, and where the fire was burning but there was no chimney. The soot hung like stalactites off the roof. We were impressed by how well the 12 children behaved at dinner. They got tamale and there seemed to be enough for all. Three young women busied themselves in the kitchen, all pregnant and nursing, looking beautiful and exhausted - as would you if you had to cook over a wood stove and do your laundry under a spigot in the yard. We felt embarrassed to take their picture, so we can only show you the children.
They spoke "Mam" with each other but also knew Spanish. When Peter tried to have a conversation with one of the men about their lives, he said something about not moving around as much we do; they had been born to this place, this is were they'll live. However, they also asked if we could give them a job back in Boston and took our address just in case. You see, Peter can carry a conversation, his Spanish is getting pretty good, yet we weren't able to find the "bathroom". None of the words we were familiar with: bagno, toalet, sanitario, servicios seemed adequate, and in vain did we look into each outbuilding we could see on the ranch. (we found out later from somebody who had been there that there is a latrine, we just missed it somehow.)
<!viragok>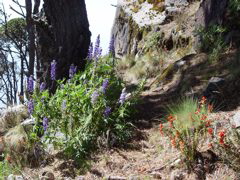 At the crack of dawn on January 1st, we set out for the top of the volcano. It was steep but not technically hard; the path switchbacked most of the way. When we told a local passerby that we were headed to the top of the volcano, he said "arriba, arriba!" which I thought must be related to "arrivé" and meant that we were almost there. This is my Spanish: arriba means high. <!csúcs>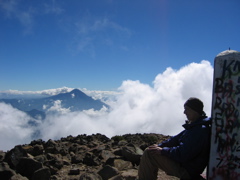 We didn't start feeling the high altitude until the last few hundred meters, when, if we hadnít slowed down, our hearts would have burst. It was quite a surprise to find a commotion at 4000 m. in the crater. We didn't stop for long but crawled onward to the top to get there in time before the clouds start moving in, the way they do every afternoon. The forest growing on the sides of this volcano is a cloud forest. It does not rain much, but there is enough moisture in the clouds to keep everything green and flowering. The black and white picture we took on our way down is not really black and white: these were the colors we experienced.
<!monochrome>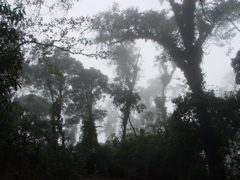 <!St Cristobal>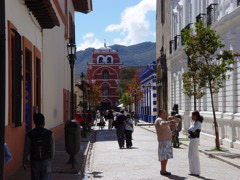 We rejoined civilization in San Cristóbal de Las Casas, a quaint colonial town of the highland. Here, we weren't the only gringos. The town is named after two people, a common occurrence in Mexico: St. Christopher and Bartolomé de Las Casas, a missionary who did a lot for the indigenous people in the 16th century. The streets, however, are named after important dates: Avenida Cinco de Mayo, Calle 22 de Noviembre, etc.
<!katedrális>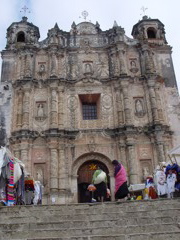 Built in the 1540-ies, San Cristóbal's most impressive building is it's cathedral. Just a few years within discovering this country, the Spaniards made their mark by erecting a huge place of worship. It is hard to see on our picture but it is there: the two headed eagle of the Habsburgs. In the 17th century, when the Habsburgs reigned over Spain, their emblem was carved on the cathedral's face.
There is a crafts market in front of the cathedral, and we didnít escape unscathed: rugs, bags, friendship bracelets, more or less useless stuff in beautiful color - hopefully local. A funny product we didn't buy: the Zapatista doll, a rag doll masked by a black scarf. Chiapas is home to the Zapatista revolutionaries who fight for indigenous rights. This was a trouble region until recently, as the authorities were fighting them, but things seemed calm now, and the fact that these dolls were being sold to us tourists shows a degree of tolerance for the sympathizers.
<!balkon>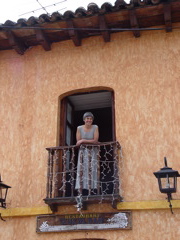 We had a comfortable and stylishly decorated hotel room in San Cristóbal and stayed on for a few days to do day trips into the surrounding area. One such outing led us to the Sumidero Canyon, a beautiful narrow canyon where we saw a crocodile and other breathtaking views. <!kanyon>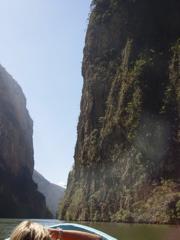 Not only was the canyon memorable, the way there was as well. There were winding mountain roads with views of the precipice, nearly vertical corn fields, neatly painted and tended road side planters and bumps in front of every settled area to make sure that traffic signs are obeyed.
<!chamula>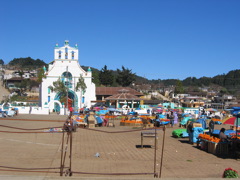 For an other outing, we rented bicycles. I found the ride quite exhausting because of the heat and the steep hills, but we made it to the two villages we wanted to visit. San Juan Chamula is famous for its strange religious customs. We were allowed to visit the cathedral and saw the saints decorated with mirrors, the floor strewn with pine needles, the scores of candles on the floor and the local worshipers drinking their Coke. Drinking Coke (Fanta or Pepsi will do too) is part of the worship since burping helps to expel bad spirits. The recent history of this little town is not as cheerful. In the 70s they chased away the protestant part of the population which now lives in slums at the outskirts of San Cristóbal.
<!szövõnõ>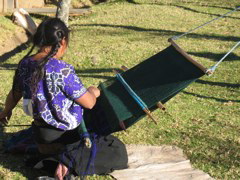 The other village we visited was called Zinacantán. Known for their their beautiful hand made outfits and their flower trade, the village people even have a museum for local handicrafts. They try to develop tourism, but it seemed we were the only birds they had successfully captured that day. The pressure to buy crafts and to pay for taking photographs was a little too high. <!palenquei muzeum>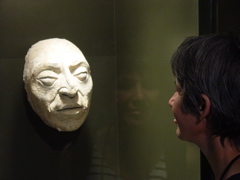 <!palenque>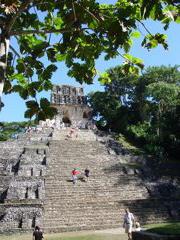 Our next destination was Palenque, one of the most important Mayan sites. It flourished in the first millennium (100-800), after which it was swallowed by the jungle. It wasn't until 1740 that a missionary's spade hit the stone which turned out to belong to a pyramid. Even now, when a good part of this ancient town has been unearthed, its charm comes from the jungle surroundings. There is a museum at the site with some nice artifacts but much too little explanation. We were wondering how it was possible to know the pronunciation of the names of important people like King Pakal, the most important ruling figure of Palenque. Mayan script was decrypted fairly recently, and we would have liked to learn more about its discovery as well as its secrets. The answers would have to wait until we are back on the internet. We could not stop taking photos; the picturesque ruins with the exotic vegetation in the background were irresistible.
<!kunyhó>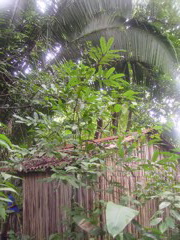 We wanted to finish our vacation by relaxing for a few days in some nice natural area and chose the Lacandón jungle. According to our book, the Lonely Planet's guide to Mexico, there was a little colony of huts run by the local people. As our book wasn't the latest edition, we were a little worried about what we'll find there, but it was just perfect. The hut seemed to be in the middle of the jungle, close to a river but also close to a communal bathroom with running water as well as a restaurant serving fresh local fair three times a day. The jungle is the surviving piece of a once huge natural area and is now a preserve.
<!fürdés>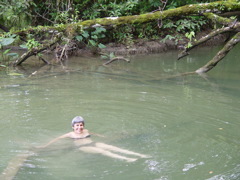 This being a rain forest, it did rain (fortunately just once during our stay of three days), and everything was quite damp. The dense vegetation didn't let in much sun, so we weren't exactly hot, yet could not resist the nice river - after the locals reassured us that there were no crocodiles.
<!híd>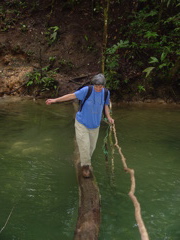 How did we spend three days? In the end, there wasn't a lot of relaxing in the hammock. We couldn't get enough of the jungle walks with the lianas and the sounds of the birds, the kind you hear in Western films just before the Indians attack! They didn't attack this time - they just asked us to pay the usage fee for the marked trail. We were happy to pay up and even wished for more paying trails. There was only one marked path leading to a gorgeous waterfall, and to go anywhere else we had to hire a guide. <!vezetõ>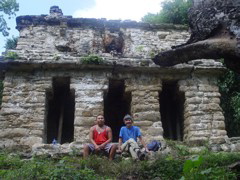 We found Alex, who even spoke a little English and took us to see some hidden, overgrown ruins complete with bats. The rest of the time, we just traipsed around on our own, carefully marking the intersections of the foot paths so we would find our way back.
<!vízesés>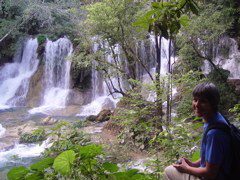 We should have seen screaming monkeys, macaws and other exotic creatures but must have made too much noise for that. Still, there was plenty to see and enjoy, like the highway of the ants. We noticed leaves walking in our path which turned out to be carried by ants. Their highway was several inches wide and hundreds of meters long. We admired the huge trees which were like forests by themselves; they supported enormous vines and let plants of the kind we grow in planters bloom on their trunks. <!maugli>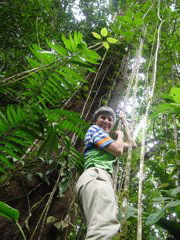 Our jungle retreat was run by Indians speaking the Lacandón language. The rest of the guests came from other parts of Mexico. There was a group of anthropology students and, for their sake, the oldest Lacandón put in an appearance one morning. He was a friendly, fit 90 year old in local costume (white shirt dress) posing for group pictures for a fee.
With this jungle interlude, our vacation came to an end. Yet, we had two days of travel ahead of us before getting home: on foot, minivan, bus, taxicab and finally the flight on AeroMexico. <!hátizsák>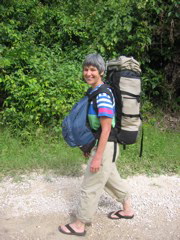 This may sound complicated, but it was not hard getting around in Mexico without a car. For long trips, we took the first class buses of the Cristobal Colon company, equipped with adjustable seats, bathrooms, TV, air conditioning, the works. Even so, one of the trips turned out more adventurous than expected. Preferring to use the facilities at the bus terminal rather than on the bus, I got off at a stop which we had been told was for 15 minutes. The ladies' room had been taken but somebody suggested I step into the men's. So I did ... and could not open the door to get out again. I was near panic, was this a trap? I pounded and got heard. People outside were giving me instructions in Spanish which I didn't understand. I was trapped without a penny, my passport, and the bus getting ready to leave. What finally got the door open I can't tell, but open it did and the bus was still waiting.
For shorter trips, we used minivan services. These leave whenever they get full, but we never had to wait long for ours to fill up. Filling up is to be taken literally; while each seat on these vans is meant for three, four passengers are squeezed in routinely. We were pleasantly surprised by the graceful behavior of our fellow passengers. They simply laugh when their neighbor nudges them with an elbow or half sits on their skirt or the like.
For getting around, we have also used collective or regular taxicabs, which are very affordable. In far away places where none of the above public means of transportation are available, it is quite possible to hitchhike. When we got back to Chiquihuite after climbing the volcano, we were glad to see a little pickup truck in the middle of the village. We asked the driver if he could take us back to Union Juarez and he readily agreed. When we saw his family coming back to the car, we were embarrassed to realize that he had more than enough passengers for the ride. At this point, since we had had a long and friendly conversation with the driver, it seemed impossible to decline the ride after all, so we just squeezed in with the uncomplaining big family in the open trunk.
Most of our trip led us along the Guatemalan border, and whether on a luxury bus or a battered minivan, we were often stopped by the border police. Were they looking for arms, drugs, illegal immigrants, Zapatista? We never knew but - rightly or wrongly - did not feel threatened.
There was one thing I complained about a little on this trip: the fact that we didn't spend time under some real hot climate. The mountains were cool, the jungle wet. My just punishment for complaining came swiftly. As soon as we got back to Boston, a huge snow storm hit New England, with temperatures well under freezing, and and the volcano, the jungle, the Maya and the smoky hut all seem but a dream.
Would you like to see more pictures? Here is the full album: Chiapas 2005 -- Picture Gallery )